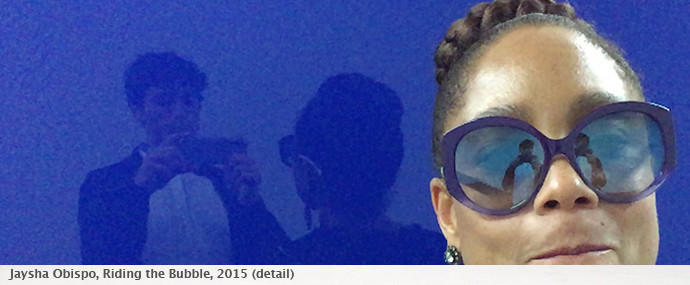 Jaysha Obispo
Bio
Jaysha Obispo
Born Willemstad, Curaçao.  Lives and works in Antwerp and Amsterdam.
Jaysha Obispo, traveled extensively throughout the United States and South America, before moving to the Netherlands from Montreal, Canada in 1986.
She has completed the Amsterdam school of writing 't Colofon; studied comparative art history and cultural studies at the Free University and the University of Amsterdam. Jaysha has followed various courses at the Rietveld Academy, Fotoacademie in Amsterdam; Central St Martins, London; and was a Masterclass student of Klaas Hoek, head of Print at Slade school of Fine Art, London from 2012-2014.
Her career as an author and performance artist started with a commission for an international theatre festival in 2001 in The Netherlands. She continued to write and develop her work as a performance artist in various forms. Since 2010, Jaysha presents her performances under the title of 'Jack & Jillian: Public & Private', a series of cinematographic performances based her alter-ego: Jillian Beemore, who travels the world to explore the Art world through her visions and fantasies.
Over the past fifteen years, her work has appeared at numerous exhibitions and at literary and art festivals among which Galleria Enrico Astuni, Bologna (2016); mo.ë, Vienna (2015); Art Basel (2015); Photography Museum-FOAM, Amsterdam (2014); Johan Deumens Gallery, Amsterdam; 'De brakke grond' Flemish Cultural Centre, Amsterdam (2013); Art & Design Atomium Museum, Brussels (2012); Centre for Fine Arts – BOZAR, Brussels (2011); Louvre Museum, Paris (2010).
The Centre Pompidou, Bibliothèque Kandinsky, acquired her work in 2013; it is part of many private and public collections in The Netherlands.
"my work is an exploration of emotions and desires. The performances and installations I create, investigate the socio-cultural boundaries that affect our personal judgements and influence our emotional experiences. Particularly experiences related to gender and identity politics, pervasive media and the movement of the body. By undergoing each performance, my experience grows. Each performance is merely a suggestion of an idea or the suggestion of an experience."
CV
Exhibitions
Publications
Gallery