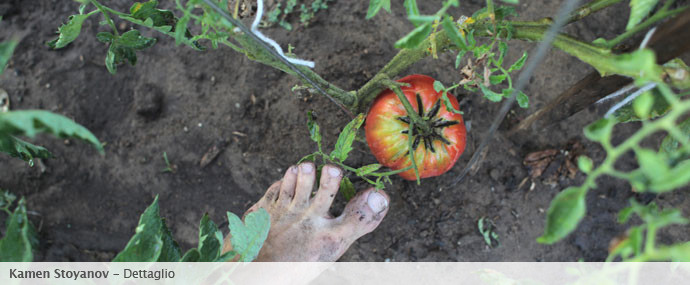 Kamen Stoyanov
Bio
Kamen Stoyanov
Born in 1977 a Rousse, Bulgaria. Lives and works in Vienna and Sofia.
He has a degree from the National Art Academy of Sofia
and a master degree from the Academy of Fine Arts of Vienna.
Kamen Stoyanov often deals with the questions of identity, migration, historical definition, social and cultural communication in his works by gathering first-hand experiences of the social, artistic and cultural relations of the given country as a scholarship-holder.
He uses the urban public places and the architectural environment as exhibition spaces, themes of photography and contrasts them with the current or inherited cultural relations, habits. The real participants of cultural life and he himself pose in his provocative and ironic works. He uses and mixes the genres freely; he is familiar with drawing, photography and video as well. 
In Hungary and also in Bulgaria there is the central problem of the transition from socialism to capitalism. The "daily knowledge" about the contradictions of both systems illicit resignation from the citizens, and from the artists who realize and tell the day-to-days stories with humour.
He shows is work in commercial galleries, museum and institutions for solo and group show in Europe and USA, among which Museum and galleries of Ljubljana; INDA Galéria, Budapest; Hague, Holland; Galleria Enrico Astuni, Bologna; Black Dragon Society, Los Angeles, CA; Salzburger Kunstverein, Salzburg; Museum Moderner Kunst Stiftung Ludwig – MUMOK , Vienna; - Sofia Art Gallery, Sofia; Aichi Triennal, Nagoya; TAF The Art Foundation, Athens. Among his first solo show "Blut & Honig, Zukunft ist am Balkan", Essel Collection, Vienna, 2003, curated by Harald Szeemann.
He participated on Volta, New York; 17th Biennale of Sydney, Songs of survival in a precarios age, Sydney 2010, and on Aichi Triennale, Nagoya, Japan 2010, On MANIFESTA 7, the European Biennial of Contemporary Art, Trentino Italy, 2008.
Exhibitions
Publications
Gallery