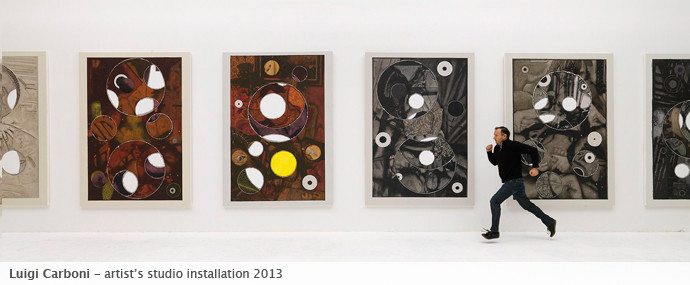 Luigi Carboni
Bio
Luigi Carboni
Born in 1957 in Pesaro, where lives and works.
Through the painting and more recently the sculpture Luigi Carboni develops a rigorous artistic research characterized by a "visual polyphony" that combines – in a sophisticated balance – abstraction and representation, reality and artifice, materiality and conceptualism, minimalism and decoration.
His paintings are patiently builds "on the relationship between the canvas, the colour and texture of the images that the artist chooses, in order to compose a visual story, based on the definition of a code." (L.Pratesi).
Since his first solo exhibition in 1979 at the Galleria San Fedele in Milan, the work of Luigi Carboni has been exhibited in solo and group exhibitions in private galleries, museums and institutions in Italy and abroad, among which Galleria Spazia, Bologna; Galleria G7, Bologna; Jack Shainman Gallery New York; Jack Shainman Gallery Washington; Galleria Lumen Travo, Amesterdam; Galleria Alberto Weber, Torino; Studio Scalise, Napoli; Studio La Città, Verona; Galleria Barnabò, Venezia; Galleria Franca Mancini, Pesaro; Galleria Giò Marconi, Milano; Otto Gallery, Bologna.
Internationaql Biennal of Art, Los Angeles, 2003; Palazzo Ducale, Urbino, 2006; Centro Arti Visive Pescheria, Pesaro, 2009; MACRO, Museo d'Arte Contemporanea, Roma, 2010.
Carboni has participated in numerous group exhibitions of Italian art, among which: The space possible, curated by Marilena Pasquali, Galleria d'Arte Moderna, Ancona, 1980; Geometries Dionysian, curated by Lea Vergine, Rotonda della Besana, Milan, 1988; Italian Art, curated by Flavio Caroli and Dang-I Liu, Taiwan Museum of Modern Art; Acquisitions by Galleria d'Arte Moderna, Bologna, 1989; Artegiovane, PAC, Pavilion of Contemporary Art, Milan, 1991; Now in Italy, Kodama Gallery, Hosaka, 1991; Cadencias figures of Italian art of the '90s, curated by Pier Giovanni Castagnoli, Museum of Contemporary Art Sofia Imber, Caracas, 1992; Museum of Contemporary Art, Bogota; Italian – American Abstraction redefined, curated by Demetrio Paparoni, Galleria Nazionale d'Arte Moderna, San Marino, 1993; Mistero e mito, momenti della pittura italiana 1930-1960-1990, curated by Fumihiko Tanifuzi, Fukujama Museum of Art, Chiba Prefectural Museum of Art, Kochi Museum of Art, India City Museum (movingexhibition in Japan), 1994; Last generations – XII Quadrennial, Palace of Expositions, Rome, 1996; Italian Art: 40 years, non-iconic painting, curated by Danilo Eccher, Galleria d'Arte Moderna, Bologna 1998; Matter of Art. Works from the collection of the GAM, curated by Peter Weiermair, Galleria d'Arte Moderna, Bologna, 2002; Absences / Attendance, a new generation of Italian artists, curated by Emmanuel Lambion, French Cultural Centre Le Botanique, Brussels, 2003; Abstract Generation, curated by Beatrice Buscaroli, Galleria d'Arte Moderna Le Ciminiere, Catania, 2008; Incontri-Zeitgenossische Italienische Kuhst, Schaufler Foundation, Sindelfingen, Germany, 2013; Il collasso dell'entropia, Galleria d'Arte Moderna, Lissone, Lissone, (2014); Arte Povera, Transavanguardia e Fluttuazioni contemporanee, Galleria Enrico Astuni, Bologna (2015).
His work has been acquired by major collections and museums including the Museum of Modern Art of Bologna (1988); Palazzo Reale, Museum of Contemporary Art in Milan (1990); the Collection of the Banca Commerciale Italiana, 1990. Farnesina, Rome (2004)
Exhibitions
Publications
Gallery