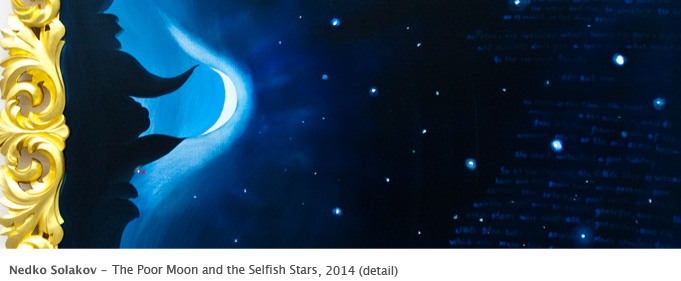 Nedko Solakov
Bio
Born in 1957 in Tcherven Briag, Bulgaria. Lives and works in Sofia.
Nedko Solakov is one of the most important figures of European contemporary art. Thanks to his watchful eye, he can criticize not only the artistic system, but also the collective beliefs and the contradictions of human life through his drawings, paintings, installations and performances. Solakov is mostly a narrator: Drawing and Thought  (often as a narration or a tale) are two indivisible poles of his artistic practice. His stories are not linear, dealing with the classical compositional rules, but multidirectional and woven, creating a territory that is either visual and discursive or physical and functional. His drawings are always part of the narration, often together with explanations and comments, where the line between drawing and writing is confuse and the texts become the drawings themselves.
Among his most important solo and collective exhibitions Salzburger Kunstverein, Salzburg (2015); Museu de Arte Contemporanea Serralves, Porto (2012); Stedelijk Museum voor Actuele Kunst / S.M.A.K., Ghent (2012); Documenta 12 (2007) e 13 (2012), Venice Biennale (1993, 1999, 2001, 2003 e 2007), Moscow Biennale (2007) and Istanbul Biennale (1992, 1995, 2005) that made him of the greatest in the new generation of Bulgarian artists.
Exhibitions
Publications
Gallery