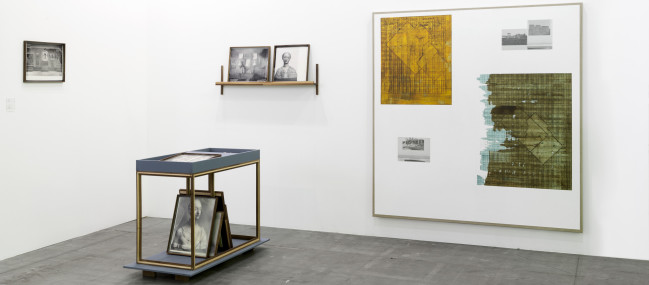 Øystein Aasan
Bio
Øystein Aasan
Born 1977, Kristiansand, Norway. Lives and works in Berlin.
Øystein Aasan received his education from the National Collage of Art and Design, Oslo.
His practice uses architecture, collage, sculpture and painting to address memory, the function of images and the place of the viewer. He has exhibited nationally and internationally, including solo show at Edward Munch Haus, Warnemünde, with Knut Henrik Henriksen (2020); True-False Stories. The Museum as a site of interpretation, con Paolo Chiasera, Musée d' Art Contemporaine Sion, Musée de Bagnes, Musée du Loetschental, Musée valaisan de la Vigne et du Vin, Switzerland (2019); L40 | Kunstverein am Rosa–Luxemburg–Platz, Berlino (2019); Kristiansand Kunsthall (2018); Kunstverein Arnsberg, Arnsberg, Germania (2017); Kunsthalle Lingen, Lingen (2015); PSM, Berlino (2015); The National Museum of Art, Oslo (2013).
Among the most recent group show Minimalism?, Blomqvist, Oslo (2019); Three little maids from school, QB Gallery, Oslo (2019); Mies in Berlin, Kunstverein Rosa-Luxemburg Verein (2018); Randi Thommessen's samling, Rake, Trondheim, Norway ( 2018); Det felles Eide, Kunstnernes Hus, Oslo (2018); Norsk Minimalisme?, Blomqvist, Oslo (2018); Chateau Grillemont, Indre et Loire (2017); Jahresgaben, Kunsthalle Lingen, Lingen (2016); Sørlandets Kunstmuseum, Kristiansand, Norway (2015); The Beautifull Changes, RH Contemporary, NYC (2014); Inside outside Architecture, The National Museum of Art, Oslo (2013); If you want it you can get it for the rest of your life, ISCP, NYC. (2012); Totem and Taboo, Museum Quartier, Vienna (2011).
His works are part of public collections including Sørlandets Art Museum, Norway; The National Museum of Arts, Norway; City of Oslo Public Collection; ICART, Oslo; KpA, Oslo; Collection Yoko Ono, New York; Norwegian Labour Party, Oslo.
He has published texts and essays in several international magazines among which the Norwegian Architectual Yearbook (2016).
Exhibitions
Publications
Gallery