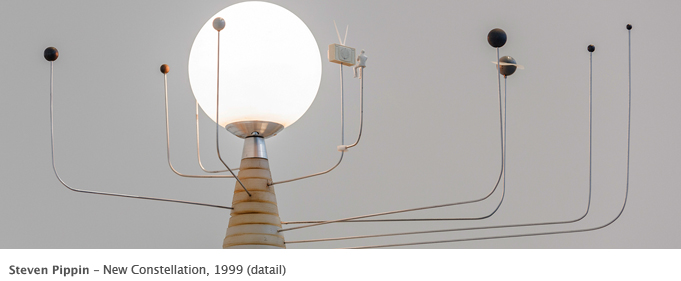 Steven Pippin
Bio
Steven Pippin
Born 1960 in Redhill, UK. Lives and works in London.
English photographer and sculptor. After completing a degree in Mechanical Engineering, he took a Foundation course in art at Loughborough College (1981–2) and then studied sculpture at Brighton Polytechnic (1982–5) and the Chelsea School of Art, London (1987). He worked in Berlin on a DAAD scholarship in 1997–8, and was shortlisted for the Turner Prize in 1999. Pippin typically uses objects such as bath tubs, wardrobes and washing machines converted so that they function as cameras. The equipment itself, the process (often filmed) of converting the objects and their methods of operation are as important as the results; the makeshift cameras and the photographic images produced by them are often displayed together. An essential aspect of these works is that the photographic subject is related to the reconfigured object; for Beach Bath (1983) Pippin converted a bath tub into a pin-hole camera, using it to photograph semi-naked figures on the Brighton sea front. In 1985 Pippin began experimenting with washing machines, leading in 1991 to his first series of Laundromat Pictures. The project culminated in Laundromat–Locomotion (Horse & Rider) (1997; New York, Twelve black-and-white photographs, produced by Gavin Brown's Enterprise), a row of twelve washing machines ingeniously converted into cameras operated by a trip wire. The resulting images of a horse being ridden through the laundromat paid homage to the pioneering experimental photography of Eadweard Muybridge. From 1991 Pippin also constructed a variety of sculptural machines that incorporated sound, vision and movement.
His recent solo exhibitions include Work (Within a Work) Galleria Enrico Astuni, Bologna (2018); Aberration optique, Centre Pompidou, Paris (2017); Insignificant, Gavin Brown's enterprise, NY (2014);
Ω=1, Dilston Grove, CGP London (2013); Regress/Progress, CSW Centrum Sztuki Wspolczesnej / Centre for Contemporary Art, Ujazdowski Castle. Group exhibitions include Xerox, The Société, Bruxelles (2017); Ghosts in the machine, FRAC – Limousin, Limoges (2015); Contemporary Art Society: Twixt Two Worlds, Whitechapel Art Gallery, London (2014); Nyc 1993: Experimental Jet Set, Trash And No Star, New Museum of Contemporary Art, New York, NY (2013); Du Monde Clos À L'univers Infini, Centre d'art contemporain de Quimper, le Quartier, Quimper (2012).
Pippin's work is held in significant public and private collection among which V&A Museum, London; Tate Gallery London; Manchester City Art Gallery; Swindon Art Gallery; MOMA, New York; Guggenheim Museum, New York; SF MoMA San Francisco; Walker Art Centre, Minneapolis; FRAC Limousin (France); FRAC Bretagne; FNAC Paris; Contemporary Art Society, London; Museum of Art Tel Aviv. UCLA Hammer Museum Los Angeles; Kenderdine Art Gallery, University of Sakatchewan Canada. Fotomuseum Winterhur Basel.
Exhibitions
Publications
Gallery