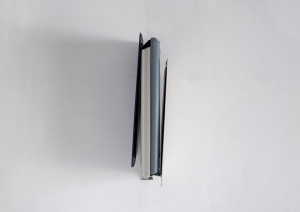 STEVEN PIPPIN. WORK (WITHIN A WORK)
Opening saturday 22nd September, 7 pm
22nd September 2018 – 05th January 2019
This exhibition highlights Steven Pippin ongoing interest and fascination with 0° degree longitude, the Prime meridian, his studio being situated close to the Greenwich Observatory in South East London since the late 1980s.
WORK (WITHIN A WORK) brings together a selection of works span some 28 years and covers a range of activity from performance, photography, sculpture, experimental film and engineering. The binding, underlying concern of infinity (within the mundane and boring) along with complexity (in the seemingly simple domestic everyday) are topics the artist constantly re-examines.
The Greenwich meridian is the central axis about which the exhibition is articulated, covering different areas and disciplines such as conceptual work, philosophical musings and scientific experiments.