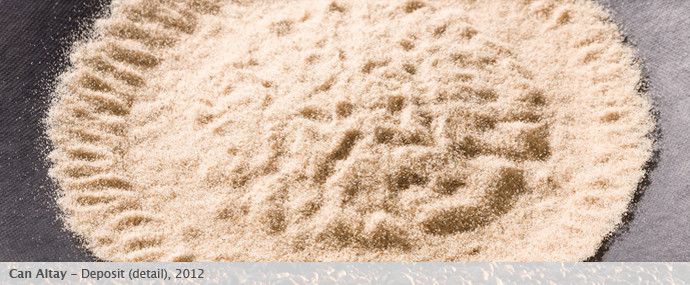 Can Altay
Biografia
Can Altay
Nato nel 1975 ad Ankara. Vive e lavora a Istanbul.
Can Altay è artista e professore associato presso la Facoltà di Architettura alla Istanbul Bilgi University. Attualmente è capo del Dipartimento di Disegno del Prodotto Industrial alla Istanbul Bilgi University.
La pratica artistica di Can Altay indaga sulle funzioni, i significati, l'organizzazione e le riconfigurazioni dello spazio pubblico. Questa sua impostazione offre una riflessione critica sui fenomeni urbani e l'attività artistica. Il suo lavoro comprende scultura, fotografia, installazione e si realizza attraverso spazi, mostre e pubblicazioni che Altay produce.
Tra le mostre personali recenti ricordiamo VFI – Virgolo Future Institute, ar/ge kunst, Kunstverein, Bolzano (IT), 2016; Split Horizon (Domestic Disobedience), Oktem & Aykut, Istanbul, TR (2015); Can Altay, Arcade, London, UK (2015); COHAB: an assembly of spare parts, Casco, Utrecht (2011); Kunstlerhaus Bethanien, Berlin (2008); Sala Rekalde, Bilbao (2006) and Spike Island, Bristol (2007).
Tra le recenti mostre collettive ricordiamo: Selfmanagement, Galleria Enrico Astuni, Bologna (2016) Too Early, Too Late. Middle East and Modernity, Pinacoteca Nazionale, Bologna, Italy (2015); The Oxymoron of Normality, Depo, Istanbul, TR (2014); Hot spot Istanbul, Museum Haus Konstruktiv, Zurich, CH (2013); Hoje Istambul: 5 Artistas Contemporaneos, SESC Pompeia, Sao Paulo, BR (2012)
Il lavoro di Can Altay è stato incluso alle Biennali di Istanbul, Havana, Busan, Gwangju, Marrakech, Taipei; in musei e gallerie come the Walker Art Center (Minneapolis), VanAbbe Museum (Eindhoven), ZKM (Karlsruhe), Artists Space (New York), e SALT (Istanbul). Tra i suoi progetti pubblici ricordiamo: "Inner Space Station" (con Protocinema, NewYork, 2013); "Distributed" (con Frieze Projects, London, 2012); "The Church Street Partners' Gazette" (with The Showroom, London, 2010-13) e "PARK: bir ihtimal" (Istanbul, 2010).


Altay è l'editore di Ahali: an anthology for setting a setting, 2013, pubblicato da Bedford Press, AA Publications, London. Il suo lavoro è stato pubblicato in periodici come Frieze, AD (Architectural Design) e Domus. Altay ha conseguito un PhD in Art, Design and Architecture alla Bilkent University, Ankara. Ha studiato Critical Studies presso la Malmo Art Academy e Lund University; Architettura di interni e Environmental Design (BFA and MFA) alla Bilkent University.


CV
Nato nel 1975, Ankara
Lives and works in Istanbul
FORMAZIONE
1999-2004
Phd in Art, Design and Architecture, Bilkent University, Ankara, TR
2003-2004
Post Graduate Degree in Critical Studies, Malmo Art Academy, Lund University, SE
1997-1999
MFA in Interior Architecture and Enviromental Design, Bilkent University, Ankara, TR
1993-1997
MFA in Interior Architecture and Enviromental Design, Bilkent University, Ankara, TR
MOSTRE PERSONALI (selezione)
2016
VFI – Virgolo Future Institute, ar/ge kunst, Kunstverein, Bolzano (IT), 2016
2015
Split Horizon (Domestic Disobedience), Oktem & Aykut, Istanbul, TR
Can Altay, Arcade, London, UK
2013
Inner Space Station, The Seward Park Branch of the New York Public Library, New York, US
2012
Distributed, Arcade, London, UK
Distributed, Frieze Project East, Waltham Forest, London, UK
Firenze Project East, Waltham forest, London, UK
2011
COHAB: An assembly of spare parts, Casco, Utrecht, NL
2010
The Church Street Partner "Gazette", The Showroom, London, UK
2008
Setting a Setting/ Forecasting a broken past, Kunstlerhaus Bethanien, Berlin, DE
2007
Ey Ahali! Setting a Setting / Letting a Setting Go, Spike Island, Bristol, UK
2006
No Bar, Just Bottles, The Abstract Cabinet at Sala Rekalde, Bilbao, SP
MOSTRE COLLETTIVE (selezione)
2016
Selfmanagement, Galleria Enrico Astuni, Bologna
2015
Istanbul. Passion, Joy, Fury, MAXXI Foundation, Rome, IT
Old Intersections Make it New III, Thessaloniki Biennale of Contemporary Art, Thessaloniki, GR
Too Early, Too Late. Middle East and Modernity, Pinacoteca Nazionale di Bologna, Italy
2013
Hot spot Istanbul, Museum Haus Konstruktiv, Zurich, CH
2012
Hoje Istambul: 5 Artistas Contemporaneos, SESC Pompeia, Sao Paulo, BR
2011
Safari, Le Lieu Unique, Nantes, FR
That's the Way We Do IT, Kunsthaus Bregenz, AT
From A to B, From B to P, Bielefelder Kunstverein, im Waldhof, DE
Divercity, Learning From Istambul- CSW Centrum Sztuki Wspolczesnej / Centre for contemporary Art Ujazdowski Castle, Warsaw, PL
Fantasy and Island, FRAC Corse, Corsica, FR
Open City: IABR in Istambul, DEPO, Istambul, TR
2009
The Columns Held Us Up, Arist Space, New York, US
4th International Architecture Biennale, Rotterdam, NL
Fantasy For Allan Kaprow, Contemporary Image Collective, Cairo, EG
If there Is No Audience, Centro Cultural Montehermoso, Vitoria-Gasteiz, SP
You don't go slumming…., arcade, London, UK (with Jeremiah Day)
New Ends Old Beginnings, The Bluecoat Liverpool, UK
2008
Social Diagrams. Planning Reconsiderered, Kunstlerhaus Stuttgart, DE
Representations of the Artista s an Intellectual, D21, Leipzig, De
2007
Movement, Contingency, and Community, Gallery 27, Seoul, ROK
Says the Junk in the Yard, Flowers East, London, UK
How to Build a Universe that doesen't Fall Apart Two Days Later, CCA Wattis Institute, San Francisco, Us
2006
A Tale of Two Cities: Busan Biennale, Busan, ROK
2005
Day Labor, P.S.1 MoMA, New York City, USA
EindhovenIstambul, Van Abbe Museum, Eindoven, NL
Normalization, Platform Garanty Contemporary Art Centre, Istambul, TR
2004
Common Property – Allgemeingut 6th Werkleitz Biennal, Halle, DE
Call me Istambul, ZKM Centre for Art and Media, Karlsruhe, DE
2003
4D: Four dimensions, Four decades – 8th Havana Biennal, Havana, CU
Poetic Justice: 8th Istambul Biennal, Istambul, TR
How Latitudes Become Forms: Art in a Global Age, Walker Art Centre, Minneapolis, US
BORSE DI STUDIO, RESIDENZE
2008
Artist in Residence (IMP) at Platform Garanti, Istambul, TR
International Studio Artist in Residence ai Kunstlerhaus Bethanien, Berlin, DE
2007
Internatiponal Artist Fellowship, production redency at Spike Island, Bristol, UK
2006
"Artist-to-Artist" Grant, Visiting Arts in partnership with the Henry Moore Foundation Contemporary Projects, UK (with British artist James Hutchinson)
2003
Research Scholarship, Sweddish Institute and the Swedish Consulate of Istambul, TR
ALTRI PROGETTI
2008
Diplomacy in Reflex. Artist Collective fonde with asli Kalinoglu
2002
School of Applied Spatial Antropology: SASA, Collective Art Project
BIBLIOGRAFIA
2012
Altay, C. Graham, D. Social Space, Frieze, issue 147, May 2012 p.170
2011
Throne, S. 2011. Huseyin Bahri Alpekin, SALT Beyoglu, Frieze, issue 141, Sep 2011, p. 214
Altindere, H. and S. Evren (eds). 1996-2006. User's Manual : A Guide to Contemporary Art in Turkey, Istambul, artist publications
2007
Kane, E. 2007. Previews: Can Altay, Contemporary, issue 94, p. 20
2006
Yang, H. 2006. Art in space 14: Can Altay & Wolfgang Breuer, SPACE, issue 468 p. 258-265
2005
Pietromarchi, B. (ed). 2005. The (UN)common Place: Art, Public Space and Urban Aesthetics in Europe, Barcelona: ACTAR
Bradley, W. 2005. Can Altay, Frieze, issue 92 June/July/August, p. 148
Mostre
Pubblicazioni
Gallery