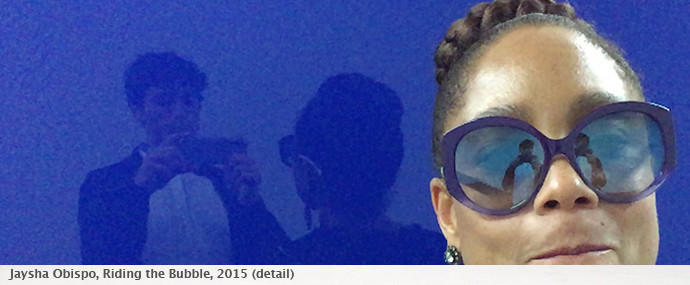 Jaysha Obispo
Biografia
Jaysha Obispo
Nata a Willemstad, Curaçao.  Vive e lavora ad Anversa e Amsterdam.
Jaysha Obispo ha viaggiato in tutti gli Stati del Sud America prima di trasferirsi in Olanda da Montreal, Canada nel 1986.
Ha completato la Amsterdam school of writing 't Colofon; ha studiato storia dell'arte comparata e cultural studies presso la Libera Università e l'Università di Amsterdam. Jaysha ha seguito vari corsi presso la Rietveld Academy, Fotoacademie, Amsterdam; Central St Martins, Londra; è stata studentessa masterclass di Klaas Hoek, a capo del dipartimento di  stampa alla Slade School of Fine Art, Londra nel 2012-2014.
La sua carriera come autrice e performer è iniziata con una commissione per un festival internazionale di teatro nel 2001 nei Paesi Bassi. Ha continuato a scrivere e sviluppare il suo lavoro di performer in varie forme. Dal 2010, Jaysha presenta le sue performance con dal titolo Jack & Jillian: pubblico e privato, una serie di performance cinematografiche basate sul suo alter-ego Jillian Beemore, che gira il mondo per esplorare il mondo di arte attraverso le sue visioni e fantasie.
Negli ultimi quindici anni, il suo lavoro è apparso in numerose mostre e festival letterari e artistici tra cui Galleria Enrico Astuni, Bologna (2016); mo.ë, Vienna (2015); Art Basel (2015); Photography Museum-FOAM, Amsterdam (2014); Johan Deumens Gallery, Amsterdam; 'De brakke grond' Flemish Cultural Centre, Amsterdam (2013); Art & Design Atomium Museum, Brussels (2012); Centre for Fine Arts – BOZAR, Brussels (2011); Louvre Museum, Paris (2010).
Il lavoro di Jaysha Obispo è stato acquisito dal Centre Pompidou e la Bibliothèque Kandinsky, Parigi (2013) ed è presente in molte collezioni in Olanda.
Come dichiara Obispo "Il mio lavoro è un'esplorazione di emozioni e desideri. Le performance e le installazioni che creo, indagano i confini socio-culturali che influenzano i nostri giudizi personali e influenzano le nostre esperienze emotive. In particolare esperienze relative al genere e all' identità politica, alla diffusione dei media e al movimento del corpo. Ogni performance è solo un suggerimento di un'idea o la suggestione di una esperienza".
CV
Mostre
Pubblicazioni
Gallery