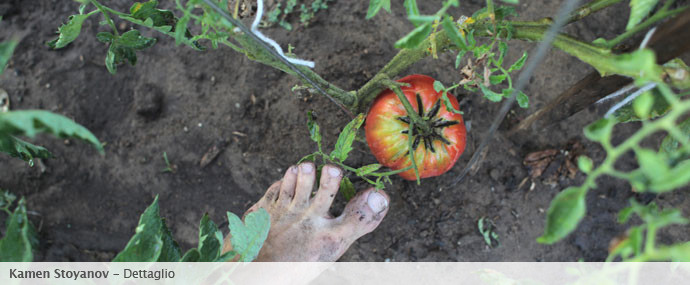 Kamen Stoyanov
Biografia
Kamen Stoyanov
Nato nel 1977 a Rousse, Bulgaria. Vive e lavora tra Vienna e Sofia.
Si è laureato nel 2002 alla National Art Academy di Sofia
e nel 2005 ha conseguito un master all'accademia di Belle Arti di Vienna.
La pratica artistica di Kamen Stoyanov si sviluppa attraverso la fotografia, il video, la performance e il disegno.
Il suo lavoro, ironico e provocante, indaga questioni di identità sociale e culturale come le relazioni sociali, artistiche e culturali di un dato paese, che l'artista coglie di prima mano attraverso una metodologia che si caratterizza per l'utilizzo degli spazi urbani e architettonici messi a confronto con i retaggi culturali o le attuali abitudini sociali.
Dal 2001 il suo lavoro è stato esposto per mostre personali e collettive in gallerie private, musei ed istituzioni in Europa e in America tra cui Museum and Galleries of Ljubljana; INDA Galéria, Budapest; Hague, Holland; Galleria Enrico Astuni, Bologna; Black Dragon Society, Los Angeles, CA; Salzburger Kunstverein, Salzburg; Museum Moderner Kunst Stiftung Ludwig – MUMOK , Vienna; Sofia Art Gallery, Sofia; Aichi Triennal, Nagoya; TAF The Art Foundation, Athens. Tra le sue prime mostre ricordiamo "Blut & Honig, Zukunft ist am Balkan", Essel Collection, Vienna, 2003, curata da Harald Szeemann.
Ha partecipato a rassegne internazionali come Volta, New York, 17 Biennale di Sydney, Sydney 2010; Aichi Triennale, Nagoya, Giappone, 2010; Manifesta 7, la Biennale Europea di Arte Contemporanea, Trentino Italia, 2008.
Mostre
Pubblicazioni
Gallery