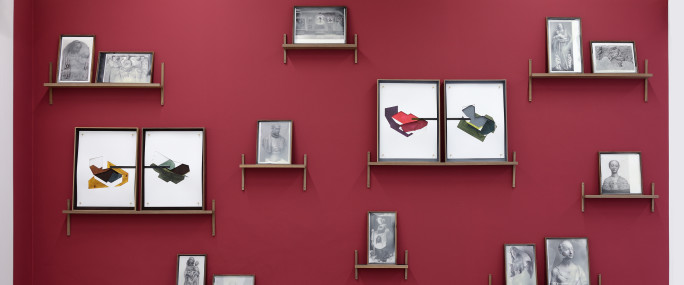 Øystein Aasan
Biografia
Øystein Aasan
Nato nel 1977 a Kristiansand, Norvegia. Vive e lavora a Berlino.
Øystein Aasan si è formato alla National College of Art and Design, Oslo. La sua pratica usa architettura, collage, scultura e pitturaper indirizzare la memoria, la funzione delle immagini e il luogo dell'osservatore. Riconosciuto a livello internazionale ha esposto in  mostre personali e collettive presso Musei, Istituzioni e Gallerie.
Fra le recenti mostre personali e doppie personali ricordiamo le esposizioni presso LNM, Oslo (2022); True-False Stories. The Museum as a site of interpretation, con Paolo Chiasera, Musée d' Art Contemporaine Sion, Musée de Bagnes, Musée du Loetschental, Musée valaisan de la Vigne et du Vin, Switzerland (2019); L40 | Kunstverein am Rosa–Luxemburg–Platz, Berlino (2019); Kristiansand Kunsthall (2018); Kunstverein Arnsberg, Arnsberg, Germania (2017); Kunsthalle Lingen, Lingen (2015); PSM, Berlino (2015); The National Museum of Art, Oslo (2013).
Tra le mostre collettive più recenti ricordiamo Quattro Idee, Galleria Enrico Astuni (2021); Stasi Frenetica, GAM – Galleria d'Arte Moderna di Torino (2020); Minimalism?, Blomqvist, Oslo (2019); Three little maids from school, QB Gallery, Oslo (2019); Mies in Berlin, Kunstverein Rosa-Luxemburg Verein (2018); Randi Thommessen's samling, Rake, Trondheim, Norway ( 2018); Det felles Eide, Kunstnernes Hus, Oslo (2018); Norsk Minimalisme?, Blomqvist, Oslo (2018); Chateau Grillemont, Indre et Loire (2017); Jahresgaben, Kunsthalle Lingen, Lingen (2016); Sørlandets Kunstmuseum, Kristiansand, Norway (2015); The Beautifull Changes, RH Contemporary, NYC (2014); Inside outside Architecture, The National Museum of Art, Oslo (2013); If you want it you can get it for the rest of your life, ISCP, NYC. (2012); Totem and Taboo, Museum Quartier, Vienna (2011).
Sue opere fanno parte di collezioni pubbliche fra cui Sørlandets Art Museum, Norway; The National Museum of Arts, Norway; City of Oslo Public Collection; ICART, Oslo; KpA, Oslo; Collection Yoko Ono, New York; Norwegian Labour Party, Oslo.
Ha pubblicato testi e saggi su diverse riviste internazionali tra cui Norwegian Architectual Yearbook (2016).
Mostre
Pubblicazioni
Gallery