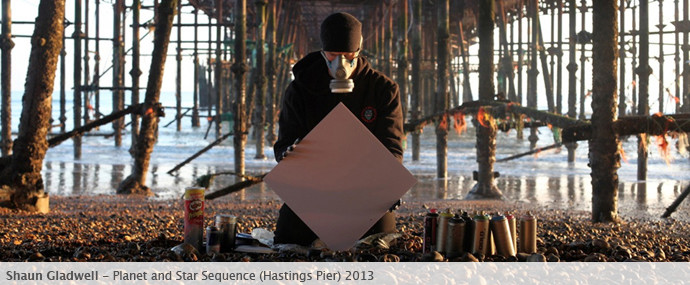 Shaun Gladwell
Biografia
Shaun Gladwell
Nato nel 1972 a Sidney. Vive e lavora a Londra.
Shaun Gladwell è fra i più riconosciuti artisti australiani, la sua pratica coinvolge criticamente l'esperienza personale e un'ampia speculazione sulla storia dell'arte e le dinamiche della cultura contemporanea attraverso performance, video, pittura, fotografia e scultura.
Il suo lavoro si sviluppa attraverso l'utilizzo di forme di espressione urbana come skateboarding, hip-hop, graffiti, BMX bike riding, break-dancing e sport estremi.
I suoi progetti video creano link tra modelli storici e la comprensione del corpo nello spazio – attraverso l'utilizzo della figura del  flâneur e di modelli culturali contemporanei come lo skateboarder, il pilota di motocross, il pilota freestyle di BMX, il graffitista e il free-runner.
L'investigazione delle articolazioni spaziali attraverso questi atleti, ha iniziato a riflettersi nelle strutture di costruzione del lavoro stesso con la sperimentazione di formati multicanale e specifiche architettoniche come superfici di proiezione. Inoltre, il lavoro di Gladwell sperimenta con generi di rappresentazione e concetti tradizionali o istituzionalizzati. Ad esempio, il genere del panorama romantico e la sua associazione a un concetti tradizionale come il "sublime" è consegnato a pratiche contemporanee come lo skateboarding o la break dance. Tuttavia, la sua pratica non tenta di aggiornare semplicemente o recuperare modelli tradizionali ma al contrario, i modelli tradizionali e le attuali pratiche culturali si contaminano l'un l'altro.
Ad esempio, la comunicazione popolare di tali attività culturali come il rimo registico veloce e furioso delle trasmissioni di MTV sono destabilizzate e trasformate nel lavoro di Gladwell, e vengono restituite attraverso l'uso dello slow motion e soundscape. Il risultato sono rappresentazioni poetiche, ipnotiche e meditative, che ampliano le attività rappresentate ad una più vasta gamma di significati, non immediatamente connessi con le loro fonti o con i soggetti apparenti.
Il suo lavoro è stato ampiamente esposto in occasione di eventi e biennali internazionali tra cui Skateboarders VS Minimalism, commissionato per il 40° Anniversario del Sydney Festival (2016); MADDESTMAXIMVS: Planet & Stars Sequence, 53rd Biennale di Venezia, Padiglione Australia (2009); Hybride-Fragmentations, Biennale d'Arte Contemporain, Douai (2015); The Floating Eye, City Pavilions Project (Sydney), 9th Shanghai Biennale, China (2012); Southern Panoramas, 17th International Contemporary Art Festival SESC_Videobrasil, Sao Paulo, Brazil (2011).
Il lavoro di Gladwell fa parte di importanti collezioni pubbliche e private in UK, Australia, USA, Olanda e Giappone. Fra le nuove acquisizioni  BMX Channel, Museum of Modern Art – MOMA,  New York (2016)
Tra le sue mostre personali più recenti: Homo Suburbiensis, Anna Schwartz Gallery, Melbourne, Melbourne (2021); Shaun Gladwell: Pacific Undertow, Museum of Contemporary Art Australia (MCA), Sydney (2019); Shaun Gladwell. Skaters vs Minimalismo, Centro Atlántico de Arte Moderno (CAAM), Las Palmas de Gran Canaria (2017); Shaun Gladwell. Skateboarders vs Minimalism, Studio La Città, Verona (2016); The Lacrima Chair, Scaf Project-Sherman Contemporary Art Foundation, Sydney, Australia (2015).
Tra le mostre collettive recenti: 30 +30 … Is the New Punk, Analix Forever, Geneva (2021); The Sea Around Us, The Model Sligo, Ireland (2020); Generation W(ar), Torrance Art Museum – TAM, Torrance, CA (2019); A Journey To Freedom, Tasmanian Museum and Art Gallery, Hobart, TAS, Australia (2018); A Nonexistent Place, Jut Art Museum, Taipei (2017); Selfmanagement, Galleria Enrico Astuni, Bologna (2016); Cosmic Love Wonder Lust: An Imperial Slacks Project, Sydney College of the Arts and Campbelltown Arts Centre (2015); Great Undoing, 54th Annale, Porec, Croatia (2014); Light Moves: Contemporary Australian Video. National Gallery of Australia, Canberra (2014); Motopoétique, Lyon Museum of Contemporary Art, France (2014); Slide (Surf and Skate), Museu de Arte do Rio, Brazil (2014); Surf-Shaping Taranaki, Puke Ariki, New Plymouth, New Zealand (2014).
Mostre
Pubblicazioni
Gallery