Editions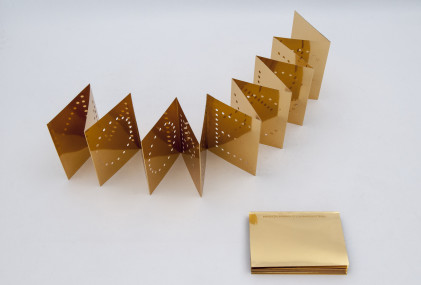 Maurizio Nannucci
Author:
Maurizio Nannucci
Title:
NOMOREEXCUSES
---
Year:
2016
Technique:
Artist book leporello, laser engraving on gold paper, case
Measures:
157,5 x 15 cm (open); 10,5 x 15 cm (close)
Notes:
Edition of ninety-nine signed and numbered copies
Maurizio Nannucci is a pioneer in the use of neon lights, in the production of artist's books and multiples used to expand the ways of fruition of his oeuvre, dealing with considerations on the art object in a different way. From the mid-Sixties he investigates on the use of the word and light in art. NOMOREXCUSES was the sentence that appeared in 2013 in the 277 ceiling spotlights istallation at Stazione Leopolda in Florence.
Recently, the Museum MAXXI in Rome hosted his anthological exhibition.