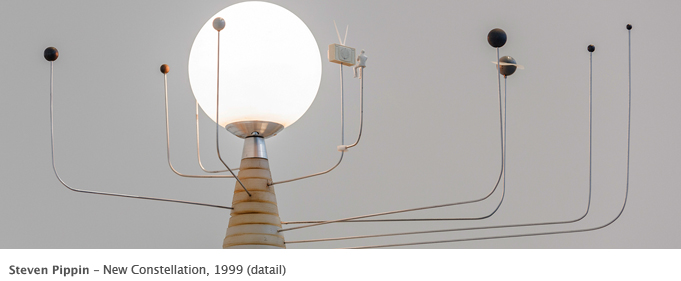 Steven Pippin
Biografia
Steven Pippin
Nato nel 1960 a Redhill, UK. Vive e lavora a Londra.
Fotografo e scultore inglese, Steven Pippin dopo aver conseguito la laurea in ingegneria meccanica ha frequentato un corso di arte al Loughborough College (1981–2) e successivamente ha studiato scultura al Politecnico di Brighton (1982–5) e al Chelsea School of Art, Londra (1987). Ha lavorato a Berlino con la borsa di studio DAAD (1997-8), ed è stato fra i finalisti al Turner Prize (1999).
Abitualmente Pippin usa oggetti come vasche da bagno, armadi e lavatrici convertiti in modo che funzionino come macchine fotografiche. Il processo (spesso filmato) e l'apparecchiatura stessa per la conversione degli oggetti e dei loro modi di funzionamento, sono importanti per l'artista come il risultato; Le macchine fotografiche improvvisate e le immagini fotografiche prodotte da queste sono spesso esposte insieme. Un aspetto fondamentale di questi lavori è che il soggetto fotografico è correlato all'oggetto riconfigurato; for Beach Bath (1983) Pippin ha riconvertito un tubo da bagno in una macchina fotografica pin-hole utilizzata per fotografare figure semi-nude sul lungomare di Brighton. Nel 1985 Pippin inizia a sperimentare con le lavatrici che lo condurrà nel 1991 alla realizzazione della sua prima serie di Laundromat Pictures. Il progetto culmina con Laundromat–Locomotion (Horse & Rider), 1997, New York, dodici fotografie in bianco e nero, prodotte da Gavin Brown Enterprise. Una fila di dodici lavatrici ingegnosamente trasformate in macchine fotografiche, azionate da un cavo di innesco, le cui risultanti immagini della cavalcata di un cavallo attraverso la lavanderia a gettoni, rendono omaggio alla fotografia sperimentale pionieristica di Eadweard Muybridge. Dal 1991, Pippin costruisce, inoltre, varie altre macchine scultoree che incorporano suono, visione e movimento.
Tra le recenti mostre personali STEVEN PIPPIN // NO FLASH PHOTOGRAPHY, Galerie Rupert Pfab, Düsseldorf (2020); Work (Within a Work), Galleria Enrico Astuni, Bologna (2018); Aberration optique, Centre Pompidou, Paris (2017); Insignificant, Gavin Brown's enterprise, NY (2014); Ω=1, Dilston Grove, CGP London (2013); Regress/Progress, CSW Centrum Sztuki Wspolczesnej / Centre for Contemporary Art, Ujazdowski Castle.
Tra le recenti mostre collettive How to Win at Photography – Die Fotografie als Spiel, Fotomuseum Winterthur, Svizzera (2021); Low Visibility, Walker Art Center, Minneapolis, MN (2021); Déambulation dans la collection du Frac Bretagne: De la Terre à la Lune, Centre d'Art Passerelle, Brest, France (2019/2020); Xerox, The Société, Bruxelles (2017); Ghosts in the machine, FRAC – Limousin, Limoges (2015); Contemporary Art Society: Twixt Two Worlds, Whitechapel Art Gallery, London (2014); Nyc 1993: Experimental Jet Set, Trash And No Star, New Museum of Contemporary Art, New  York, NY (2013); Du Monde Clos À L'univers Infini, Centre d'art contemporain de Quimper, le Quartier, Quimper (2012)
Le opere di Steven Pippin sono parte di prestigiose collezioni pubbliche e private tra cui V&A Museum, London; Tate Gallery London; Manchester City Art Gallery; Swindon Art Gallery; MOMA, New York; Guggenheim Museum, New York; SF MoMA San Francisco; Walker Art Centre, Minneapolis; FRAC Limousin (France); FRAC Bretagne; FNAC Paris; Contemporary Art Society, London; Museum of Art Tel Aviv. UCLA Hammer Museum Los Angeles; Kenderdine Art Gallery, University of Sakatchewan Canada. Fotomuseum Winterhur Basel.
Mostre
Pubblicazioni
Gallery