Exhibitions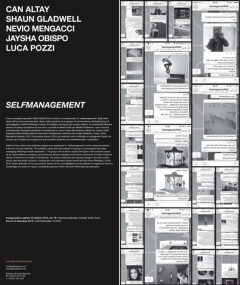 SELFMANAGEMENT
Can Altay, Shaun Gladwell, Nevio Mengacci, Jaysha Obispo, Luca Pozzi
GALLERIA ENRICO ASTUNI
from 22.10.2016 to 10.12.2016
Curated by: self-curated exhibition
Press release: PDF
---
Galleria Enrico Astuni new exhibition project is an experiment in "selfmanagement" conducted by the artists in the social networking era. The project emerged from a group of conversation on the mobile messaging application WhatsApp. The purpose of the chat is to create an internal, reflexive dialogue, able to absorb and replace the role of the external curator. The participating artists hold a wide variety of interests and share a mutual affinity for social media.
The "Selfmanagement" exposition is an act of self-curation by the artists Can Altay (1975, Ankara); Shaun Gladwell (1972, Sidney); Nevio Mengacci (1945, Urbino); Jaysha Obispo (Antwerp); Luca Pozzi (1983, Milano).
Within their micro-community, three generations, four nationalities, two genders compared, teleported to a technological limbo without the physical coordinates of space and time coordinates, to produce a tangible exhibition at the gallery space.
The distinctive feature of the show is the production of a series of reports and shares, fully documented in the pages of the publication that will follow the exposition.
The project accentuates current trends which disclose artists' involvement in curating at significant artistic events, such as, Manifesta, Zurich, 2016, Venice Biennale, 2015 and Documenta in Kassel, 2012.  
The exposition highlights how the attitude to imagining the future has become less self-referential or celebratory and more often viewed the result of a hyper-connected approach.