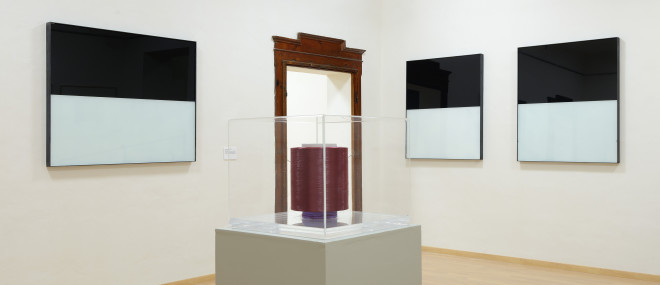 Alberto Garutti
Bio
ALBERTO GARUTTI
Born in Galbiate (Lecco) 1948, lives and works in Milan.
Alberto Garutti, artist and lecturer, teaches at the Academy of Brera in Milan and at the Faculty of Design and the Arts at the IUAV in Venice.
He has been invited to major international events and institutions such as Venice Biennale (1990); the Istanbul Biennial (2001) and the Memory Marathon held at Serpentine Gallery of London (2012).
Alberto Garutti is often commissioned to create public works for various cities and museums:
Commissioned by the Ministry of Culture the Artist will create a permanent site-specific work for the new branch of the MAXXI Museum that will open in June in L'Aquila, in the spaces of the eighteenth-century Palazzo Ardinghelli (2020).
Garutti has executed permanent public works that are capable of bringing about relationships and links between public and private institutions and the city's social fabric.
In 2019 the public work Ai nati oggi was installed in Piazza del Popolo, Rome, in occasion of the exhibhition "The Street. Where the World is Made", curated by Hou Hanru for Museo MAXXI.
In the same year was opened three permanent public works at Caorle (Ve), as in 2017 Alberto Garutti was the winner of the international competition "Le tre Soglie a Ca' Corniani"  held by Assicurazioni Generali – Genagricola S.p.A.
Particularly worthy of note are the works he did for the cities of Milan, commissioned by Hines Italia (2012); Trivero, commissioned by Fondazione Zegna (2009); Moscow, commissioned by Moscow Museum of Modern Art for the exhibition Impossible Community (2011); Kanazawa, Japan (2002) in collaboration with the 21st Century Museum of Contemporary Art; Herford, Germany commissioned by MARTa Museum (2003); Cagliari, Italy, commissioned by Tiscali (2003), Gand, Belgium, commissioned by SMAK for the exhibition Over the Edges (2000).
Garutti has held many solo shows in private spaces, and he has shown his work in many galleries in both Italy and abroad, including Galleria Enrico Astuni in Bologna, Paul Maenz Gallery in Cologne, Galleria Minini in Brescia, Magazzino d'Arte Moderna in Rome, Studio Guenzani and Galleria Marconi in Milan.
His work has been displayed in numerous group exhibitions held in public spaces, where he has explored the relationship between art, the city and the landscape.
Among the most recent exhibitions are: S.p.A.A. Società per Azioni Artistiche, Galleria Enrico Astuni, Bologna (2019); PoliArte (L'Arte delle Arti), Galleria Enrico Astuni, Bologna (2019); Sehnsucht, Zoo Zone Art Forum, Roma (2018); La strada. Dove si crea il mondo, curated by Hou Hanru, MAXXI, Roma (2018); Intuition a Palazzo Fortuny, Venice, Biennale collateral event (2017); Take Me (I'm Yours), a cura di Christian Boltanski, Hans Ulrich Obrist e Chiara Parisi (2017); Pirelli Hangar Bicocca, Milano (2017) ; The Raft. Art Is (Not) Lonely, a cura di Jan Fabre e Joanna De Vos, nella Cattedrale neogotica di Ostenda (2017); Dieses Werk ist jedem gewidmet, der jetzt den Blick nach oben richtet und schaut a cura di Christina Vegh, Kestner Gesellschaft, Hannover (2017).
Of particular interest are also: the projects Temporali , first shown at Fondazione Remotti in Camogli, was presented later at MAXXI Museo Nazionale delle Arti del XXI Secolo in Rome as part of the cycle "Dialoghi con la città," and at the Fondazione Sandretto Re Rebaudengo in Turin (2009); "ITALICS, Arte italiana fra tradizione e rivoluzione 1968-2008" held at Palazzo Grassi in Venice, and later at the Museum of Contemporary Art in Chicago (2008); "Luna Park" at Villa Manin, Codroipo (2005).
Alberto Garutti was part of the jury for the Furla Art Prize, he chaired the jury for the most recent edition of Italian Studio Program at the MoMA PS1 Contemporary Art Center in New York; won the Terna 02 and the Prize for Culture in the city of Ghent (2009.
In coordination with his solo exhibition at PAC Padiglione d'Arte Contemporanea in Milan, opened in the fall of 2012, curated by Paola Nicolin and Hans Ulrich Obrist was published by Walther König e Mousse Publishing the book "Alberto Garutti, didascalia/caption".
Exhibitions
Publications
Gallery