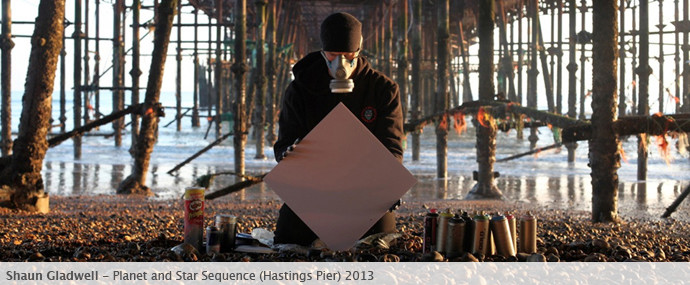 Shaun Gladwell
Bio
Shaun Gladwell
Born in 1972 in Sydney, is one of Australia's most prominent artists.
Gladwell's practice critically engages personal experience as well as wider speculation upon art history and the dynamics of contemporary culture through performance, video, painting, photography and sculpture. His works engage these concerns through forms of urban expression such as skateboarding, hip-hop, graffiti, BMX bike riding, break-dancing and extreme sports.
His projects in video have made discursive links between historical models and an understanding of the body in space such as the flâneur and contemporary cultural figures such as the skateboarder, the motocross rider, the freestyle BMX rider, the graffiti artist, the free-runner and other physical and street performers. As this ongoing investigation of spatial articulation has deepened and gathered momentum, it has begun to more closely inform and be reflected in the installation structures of the work itself, with an increased experimentation with multi-channel formats and architectural features as projection surfaces.
Gladwell's work also experiments with certain traditional or established representational genres and concepts. For example, the genre of the romantic landscape and its association with traditional concepts such as the sublime is handed over to – or co-opted by – contemporary practices such as skateboarding or break dancing. However, his practice does not attempt to either simply update or recuperate traditional models. On the contrary, the traditional model and current cultural practice cross-infect each other, nor is the continued use of 'street' or 'subcultural' activity directly claimed within the category of 'art'. Rather, the popular projections of such cultural activity are both destabilised and transformed. The fast and furious MTV jump-cut editing of these popular representations are resisted through the use of slow motion and ambient soundscapes. The results are poetic, hypnotic and meditative representations that open the represented activities themselves to a wide range of readings not immediately associated with either their sources or my apparent subject matter.
In 2009 Shaun Gladwell represented Australia at the 53rd Biennale di Venezia with his exhibition MADDESTMAXIMVS: Planet & Stars Sequence. His work has been exhibited extensively internationally including Skateboarders VS Minimalism, video work commissioned for the 40th Anniversary of the Sydney Festival (2016); Hybride-Fragmentations, Biennale d'Arte Contemporain, Douai (2015); The Floating Eye, City Pavilions Project (Sydney), 9th Shanghai Biennale, China (2012); Southern Panoramas, 17th International Contemporary Art Festival SESC_Videobrasil, Sao Paulo, Brazil (2011).
Gladwell's work is held in significant public and private collections in the UK, Australia, USA, The Netherland and Japan. Among recent acquisitions BMX Channel, Museum of Modern Art – MOMA,  New York (2016).
His recent solo exhibitions include: Homo Suburbiensis, Anna Schwartz Gallery, Melbourne, Melbourne (2021); Shaun Gladwell: Pacific Undertow, Museum of Contemporary Art Australia (MCA), Sydney (2019); Shaun Gladwell. Skaters vs Minimalismo, Centro Atlántico de Arte Moderno (CAAM), Las Palmas de Gran Canaria (2017); Shaun Gladwell. Skateboarders vs Minimalism, Studio La Città, Verona (2016); The Lacrima Chair, Scaf Project-Sherman Contemporary Art Foundation, Sydney, Australia (2015); Field Recordings. Samstag Museum of Art, Adelaide, Australia (2014); Afghanistan, Australian Embassy, Washington, USA (2013); Cycles of Radical Will, De La Warr Pavilion, UK (2013); Broken Dance (Beatboxed), Art Gallery of New South Wales (Sydney, 2012).
Group exhibitions include: 30 +30 … Is the New Punk, Analix Forever, Geneva (2021); The Sea Around Us, The Model Sligo, Ireland (2020); Generation W(ar), Torrance Art Museum – TAM, Torrance, CA (2019); A Journey To Freedom, Tasmanian Museum and Art Gallery, Hobart, TAS, Australia (2018); A Nonexistent Place, Jut Art Museum, Taipei (2017); Selfmanagement, Galleria Enrico Astuni, Bologna (2016); Cosmic Love Wonder Lust: An Imperial Slacks Project, Sydney College of the Arts and Campbelltown Arts Centre (2015); Great Undoing, 54th Annale, Porec, Croatia (2014); Light Moves: Contemporary Australian Video. National Gallery of Australia, Canberra (2014); Motopoétique, Lyon Museum of Contemporary Art, France (2014); Slide (Surf and Skate), Museu de Arte do Rio, Brazil (2014); Surf-Shaping Taranaki, Puke Ariki, New Plymouth, New Zealand (2014); On Dry Land, Negev Museum of Art, Israel (2014); Australia, Royal Academy, London, UK (2013); California-Paci!c Triennial, Orange County Museum, California, USA (2013); The Last Wave, La Friche la Belle de Mai, Marseille, France (2013); Video Forever, touring exhibition, Gallery Magda Danysz, Paris; Palais de Tokyo, Paris; Museum of Lyon, Lyon; France (2013).
Exhibitions
Publications
Gallery