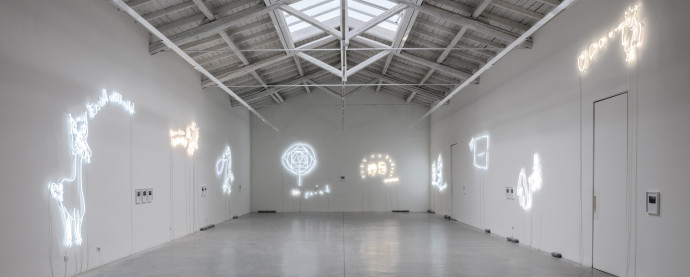 Christian Jankowski
Bio
Christian Jankowski
Born in Göttingen, Germany, in 1968. Lives and works in Berlin.
Christian Jankowski works in the field of conceptual and performance art with a focus  on film, video and photography, but also in a variety of other media like painting, sculpture and drawing.
Jankowski's work initiates collaborations between contemporary visual art and other professional worlds such as the world of religion, business, politics and entertainment. The protagonists of today's society inscribe themselves in Jankowski's art and leave their skills, their views and their aesthetics. The work is carried out in close exchange with mass media formats and their production mechanisms. The focus lies on the collective invention and the questioning of its power: Testing the image. Through the presence of multiple authors, these works of art often speak at the same time to different groups of audiences.
Jankowski's works are included in many public and private collections. Besides many group exhibitions, the artist had several solo exhibitions like Healing Games, for Quote-Unquote, Suprainfinit Gallery, Bucharest, Romania (2020); Sender and Receiver, Fluentum, Berlin (2020); Weather Flag, joségarcía, mx, Mérida, Mexiko, (2020); Christian Jankowski. Where do we go from here? Galleria Enrico Astuni (2019); Floating World, @KCUA, Kyoto (2018); 2017, Petzel Gallery, New York (2018); Walking Logic, Galéria HIT, Bratislava (2017); Die Legende des Künstlers und andere Baustellen, Haus am Lützowplatz, Berlin (2016); Christian Jankowski. Retrospective, Contemporary Fine Arts, Berlin (2016); Heavy Weight History, CCA Ujazdowski Castle, Warsaw (2013); Llorando por La Marcha de la Humanidad, Sala de Arte Puíblico Siqueiros, Mexico City (2012); Casting Jesus, MACRO, Rome (2012); The Finest Art on Water, Frieze Art Fair, London (2011); Now For Something Completely Different, BAWAG Foundation, Vienna (2009); Dienstbesprechung, Kunstmuseum Stuttgart (2008).
In 1999 and 2013 Jankowski participated in the Biennale di Venezia. His works were presented at the Berlin Biennale in 2001, at The Whitney Biennial in 2002 and at The Taipei Biennial in 2010. In 2016 he curated the 11th edition of Manifesta, becoming the first artist to assume this role. In 2017 Jankowski was featured at the 6th edition of The Yokohama Triennale.
Since 2005, Jankowski holds a full-time professorship at the State Academy of Fine Arts in Stuttgart.
Exhibitions
Publications
Gallery