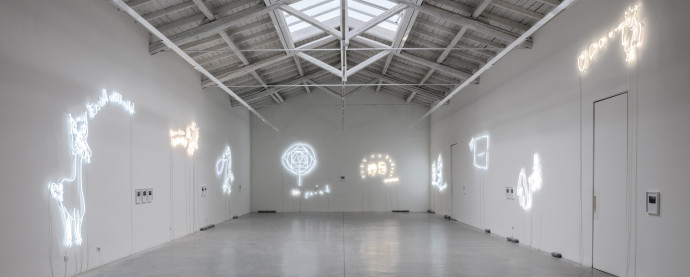 Christian Jankowski
Biografia
Christian Jankowski
Nato a Göttingen, Germania, nel 1968. Vive e lavora a Berlino.
Christian Jankowski lavora nell'ambito dell'arte concettuale e della performance con un'attenzione particolare nei confronti di video e fotografia, ma servendosi anche di un'ampia gamma di altri media, quali pittura, scultura e disegno.
Il suo lavoro dà avvio a collaborazioni tra l'arte contemporanea e altri mondi professionali, come quelli della religione, degli affari, della politica e dell'intrattenimento. I protagonisti della società odierna si inseriscono nella pratica di Jankowski lasciando traccia delle loro abilità, delle loro visioni e della loro estetica.
Il suo modo di procedere si svolge in stretto rapporto di scambio con il linguaggio dei mass media e i loro meccanismi di produzione. Il nucleo dell'operazione risiede nell'invenzione collettiva e la riflessione sul suo potere: l'immagine viene messa alla prova. Attraverso l'azione di molteplici autori, queste opere spesso parlano nello stesso tempo a differenti tipologie di pubblico.
Il suo lavoro è stato acquisito da importanti collezioni private e istituzioni museali. Oltre alle svariate esposizioni collettive cui ha partecipato, all'artista sono state dedicate diverse mostre personali, fra cui I WAS TOLD TO GO WITH THE FLOW, Kunsthalle Tübingen, Tübingen(2022); Healing Games, for Quote-Unquote, Suprainfinit Gallery, Bucharest, Romania (2020); Sender and Receiver, Fluentum, Berlin (2020); Weather Flag, joségarcía, mx, Mérida, Mexiko, (2020); Christian Jankowski. Where do we go from here? Galleria Enrico Astuni (2019); Floating World, @KCUA, Kyoto (2018); 2017, Petzel Gallery, New York (2018); Walking Logic, Galéria HIT, Bratislava (2017); Die Legende des Künstlers und andere Baustellen, Haus am Lützowplatz, Berlino (2016); Christian Jankowski. Retrospective, Contemporary Fine Arts, Berlino (2016); Heavy Weight History, CCA Ujazdowski Castle, Varsavia (2013); Llorando por La Marcha de la Humanidad, Sala de Arte Puíblico Siqueiros, Mexico City (2012); Casting Jesus, MACRO, Roma (2012); The Finest Art on Water, Frieze Art Fair, Londra (2011); Now For Something Completely Different, BAWAG Foundation, Vienna (2009); Dienstbesprechung, Kunstmuseum Stoccarda (2008).
Nel 1999 e nel 2013 Jankowski ha partecipato alla Biennale di Venezia. I suoi lavori sono stati presentati alla Biennale di Berlino nel 2001, a La Whitney Biennial nel 2002 e a La Taipei Biennial nel 2010. Nel 2016 ha curato l'11esima edizione di Manifesta, diventando il primo artista a ricoprire questo ruolo. Nel 2017 Jankowski è stato presentato alla sesta edizione della Triennale di Yokohama.
Dal 2005 Jankowski ha una cattedra a tempo pieno presso l'Accademia di Belle Arti di Stoccarda.
Mostre
Pubblicazioni
Gallery