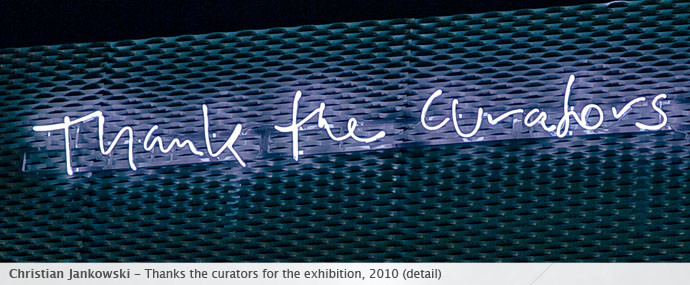 Christian Jankowski
Biografia
Nato nel 1968 a Göttingen, Germania. Vive e lavora a Berlino.
La pratica artistica di Christian Jankowski si sviluppa attraverso video, installazione video, performance e fotografia.
Il suo lavoro indaga i meccanismi della comunicazione di massa come ad esempio lo statuto dei format televisivi, e propone una riflessione sui molteplici livelli di realtà che questi instaurano. La sua metodologia si caratterizza per la rielaborazione di situazioni contingenti nel contesto in cui l'artista è chiamato a lavorare. La videocamera è sempre presente dietro le sue opere, per documentare lo scambio fra emittente e ricevente, in una luce ironica e irrazionale.
Nel 2016 Jankowski è stato curatore di Manifesta, biennale europea d'arte contemporanea itinerante ospitata a Zurigo. Per la prima volta nella storia della manifestazione un singolo artista ha assunto questo incarico, responsabile di un progetto che ha interessato un intero ambiente urbano: Jankowski ha indagato la paternità delle opere d'arte, la loro produzione e il riflesso sul paesaggio professionale di Zurigo.
Dal 1996 il suo lavoro è stato esposto per mostre personali e collettive in gallerie private, musei ed istituzioni di tutto il mondo fra cui Palais de Tokyo, Parigi; Museion, Bolzano; MACBA, Barcellona; Centre for Contemporary Art Ujazdowski Castle, Varsavia; The Pavilion Downtown Dubai, Dubai; Utah Museum of Contemporary Art, Città del Lago Salato, UT, USA; MACRO Museo d´Arte Contemporanea Roma, Roma; Das gesunde Werden - Kunstraum Innsbruck, Innsbruck; Kunstmuseum Stuttgart, Stoccarda; CGAC – Centro Galego de Arte Contemporánea, Santiago de Compostela; Lisson Gallery, Londra; Helga Maria Klosterfelde Edition – Berlin, Berlino; Regen Projects, Los Angeles, CA; Maccarone Gallery, New York City, NY; Enrico Astuni, Bologna; Giò Marconi Gallery, Milano;
Christian Jankowski ha partecipato ad importanti rassegne come la Biennale di Venezia, la Biennale di Berlino, Portikus a Francoforte, German Open al Kunstmuseum di Wolfsburg, la Biennale di Whitney.
Il suo lavoro è stato acquisito da importanti collezioni ed istituzioni museali in Europa e in USA tra cui il FRAC – Provence-Alpes-Côte d'Azur, Marseille; Neue Nationalgalerie, Berlin; Julia Stoschek Collection, Dusseldorf; Kunstmuseum Wolfsburg, Wolfsburg; Herzliya Museum of Contemporary Art, Herzliya; Fondazione Morra Greco, Napoli; De Hallen, Haarlem; Ellipse Foundation, Alcoitão Cal Cego – Colleccion de Arte Contemporaneo, Barcelona; Tate Britain, London; ICA – Institute of Contemporary ArtBoston, Boston, MA; MOCA Grand Avenue, Los Angeles.
Mostre
Pubblicazioni
Gallery